Zink Foodservice is proud to announce our representation of Nyco Products in Ohio, Michigan, Kentucky, Indiana, W. Pennsylvania and West Virginia.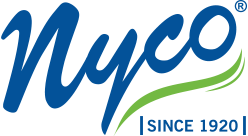 Nyco Products, based in Countryside, Illinois is a family-owned company, celebrating their 100th year anniversary as a premier cleaning chemical manufacturer. They have a portfolio of over 450 stock and custom formulations and have built their business through both their national brand and private branding program.
"We're excited to represent Nyco. Nyco Products has a history of working with their customers to develop a strong chemical program through both the Nyco brand as well as Private Branding. We're excited to be able to offer this", says Zink Vice President, Kevin Jennings. Zink Foodservice Principal, Jim Zink adds, "One thing that is clear to us, upholding strict hygiene and sanitation standards will be more important to operators than ever before. We want to be a part of that solution, and NYCO products takes us there."
According to Brendan Cavanagh, VP of Sales at Nyco Products, "We are excited about our new partnership with Zink Foodservice in the Ohio Valley region. I am particularly impressed by the professionalism and expertise Zink brings to foodservice operations across their marketplace. This is a tremendous opportunity for both Nyco and Zink to help operators better understand disinfecting and cleaning techniques, and to help them make their businesses as safe as possible, especially during these uncertain times."
About Zink
Zink is an employee-owned company with a team of more than 60 associates with offices throughout Ohio, Illinois, Wisconsin, Indiana, Michigan, West Virginia, Kentucky and Western Pennsylvania.Zink provides comprehensive sales, marketing, distribution,ventilation and installation services for premier manufacturers and dealers of foodservice equipment, furniture, tabletop, smallwares and disposables. For additional information, visit www.zinkfsg.com.