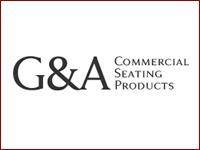 Zink Hospitality is proud to announce their representation of G&A Seating in Ohio, Michigan, Kentucky and Indiana.
G&A Seating, based in Mountainside, New Jersey, has been producing superior quality product since 1984. Their broad portfolio includes a wide selection of wood, metal and aluminum seating products, table tops and table bases designed to fit the needs of the restaurant, bar and hospitality industry.
"We're thrilled to add G&A Seating to the Zink Hospitality portfolio. G&A's breadth of line, quality and ability to get product to market in a timely manner is a fantastic compliment to our portfolio, making Zink Hospitality a great resource in the furniture category", says Kevin Jennings, Vice President of Sales. Zink Hospitality, a division of the Zink Group is an employee-owned company with offices throughout Ohio, Illinois, Wisconsin, Indiana, Michigan, West Virginia, Kentucky and Western Pennsylvania. Zink provides comprehensive sales, marketing, distribution,ventilation and installation services for premier manufacturers and dealers of foodservice equipment, furniture, tabletop, smallwares and disposables. For additional information, visit www.zinkfsg.com.