Exploring the Quality and Versatility of T&S Brass Pre-Rinse Faucets
When it comes to commercial kitchen equipment, T&S Brass is a trusted name renowned for its high-quality products. Among their impressive range of offerings, T&S Brass pre-rinse faucets stand out as reliable and versatile tools for efficient dishwashing and food preparation tasks. Let's delve into the features, benefits, and applications of T&S Brass pre-rinse faucets and understand why they are a popular choice in the foodservice industry.
Exceptional Durability and Construction
T&S Brass pre-rinse faucets are crafted with durability in mind. Constructed from robust materials such as solid brass, stainless steel, and reinforced rubber components, these faucets can withstand the rigors of a busy commercial kitchen environment. The superior build quality ensures long-lasting performance, reducing the need for frequent repairs or replacements.
Versatile Design Options
T&S Brass offers a diverse range of pre-rinse faucet models to accommodate various kitchen configurations and requirements. From wall-mounted to deck-mounted options and different spout lengths and styles, there is a pre-rinse faucet to suit every kitchen layout. The versatility allows for seamless integration and optimal functionality in any foodservice establishment.
Enhanced Ergonomics and Ease of Use
T&S Brass pre-rinse faucets are designed with user comfort and convenience in mind. They feature ergonomic handles that provide a comfortable grip, allowing for smooth operation and easy control of water flow and temperature. This ensures a pleasant and efficient user experience during dishwashing and food preparation tasks.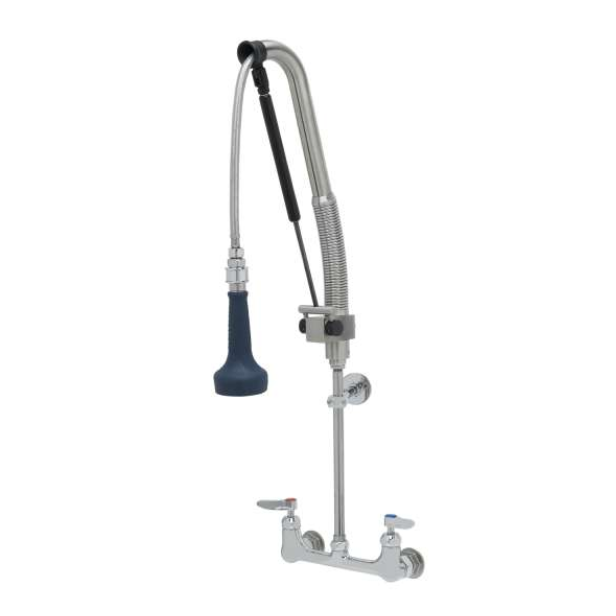 Efficient Spray Patterns and Water Conservation
T&S Brass pre-rinse faucets offer different spray patterns, including powerful jet sprays and wide coverage sprays. These options cater to a variety of cleaning needs, from removing stubborn food particles to rinsing delicate items. Additionally, some models feature flow control mechanisms, allowing users to adjust water flow and conserve water while maintaining optimal cleaning performance.
Compliance with Industry Standards
T&S Brass pre-rinse faucets adhere to stringent industry standards and certifications. They are designed to meet health and safety regulations, ensuring foodservice establishments maintain sanitary conditions. The faucets are also compliant with ADA (Americans with Disabilities Act) guidelines, ensuring accessibility and inclusivity in commercial kitchen environments.
Easy Installation and Maintenance
T&S Brass pre-rinse faucets are designed for hassle-free installation. They come with detailed instructions and all necessary mounting hardware, simplifying the setup process for both new installations and replacements. Additionally, these faucets are designed for easy maintenance, with accessible components and replaceable parts readily available.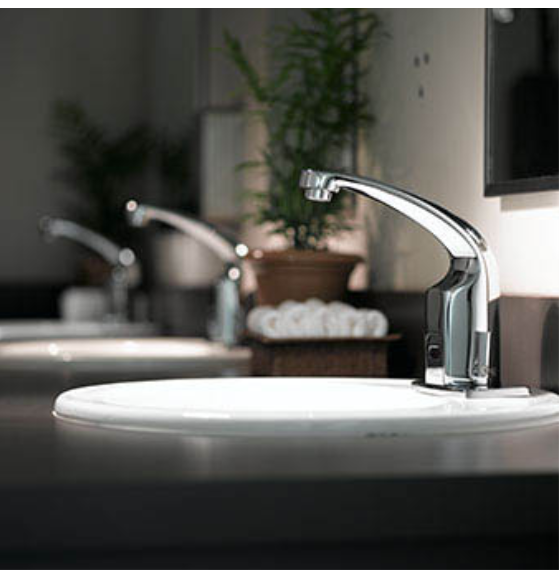 Trusted Brand Reputation and Support
With a history spanning over 70 years, T&S Brass has established itself as a reliable and respected brand in the foodservice industry. Their commitment to customer satisfaction is reflected in the quality of their products and their exceptional customer support services. This ensures that users can rely on T&S Brass for reliable solutions and assistance whenever needed.
T&S Brass pre-rinse faucets are highly regarded in the foodservice industry for their durability, versatility, and ease of use. With a wide range of models, efficient spray patterns, compliance with industry standards, and exceptional customer support, T&S Brass pre-rinse faucets are an ideal choice for any commercial kitchen. Whether you require a faucet for heavy-duty dishwashing or precise food preparation, T&S Brass offers reliable solutions that deliver performance and longevity. Trust T&S Brass to meet your commercial kitchen needs and experience the excellence they are renowned for.
Follow the blog series here…