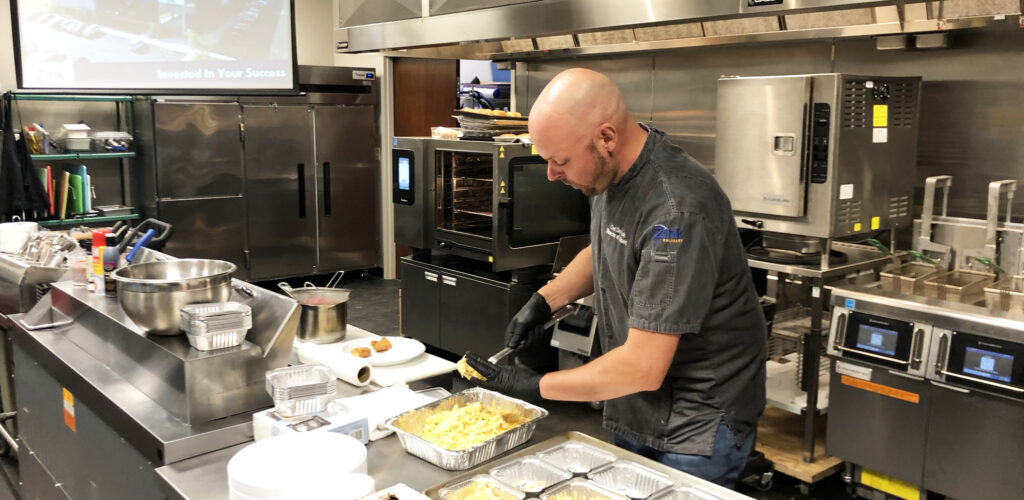 At Zink Foodservice, our culinary team's goal is to provide exceptional service to clients by inviting them into our state-of-the-art culinary centers. We prioritize understanding our clients' needs, whether it's expanding their menu or optimizing existing processes. Chef David Ash, our Director of Culinary, brings extensive experience working with clients across the industry, including convenience store directors, K-12 foodservice directors, and renowned chefs. Our culinary centers serve as a free playground for chefs, offering the opportunity to test equipment and standardize procedures, ensuring a seamless and satisfying experience for our valued customers.
Where We're Located
Click below to view our complete list of 9 culinary centers!
Equipment Showcase
When you step into our kitchen, you'll find an array of cutting-edge foodservice equipment ready to revolutionize your workflow. Here's a sampling of what you'll see:
High-Speed Ovens
Labor Saving Prep Equipment
Ventless Cooking Equipment
Walk-In Freezers
Induction Cooktops
Bar Equipment
Custom Fabrication
Warewashing
Ventilation
Automation Equipment
Meet our Director of Culinary, Chef Dave Ash
Our resident culinary expert, Chef David Ash, brings a wealth of experience and creativity to the table. With an illustrious career spanning over two decades, Chef Ash has been instrumental in shaping the culinary experience at award-winning foodservice establishments across the country including working with their culinary teams to optimize their current cooking process with the correct equipment, menu creation, and standardizing procedures across all stores.
Chef David Ash emphasizes the significance of Zink culinary centers for chefs. Drawing from his personal experience, Chef Ash recalls the challenges he faced when unable to test equipment before purchase. "With the Zink culinary centers, chefs can make informed decisions, eliminating uncertainties related to kitchen operations and fostering creativity."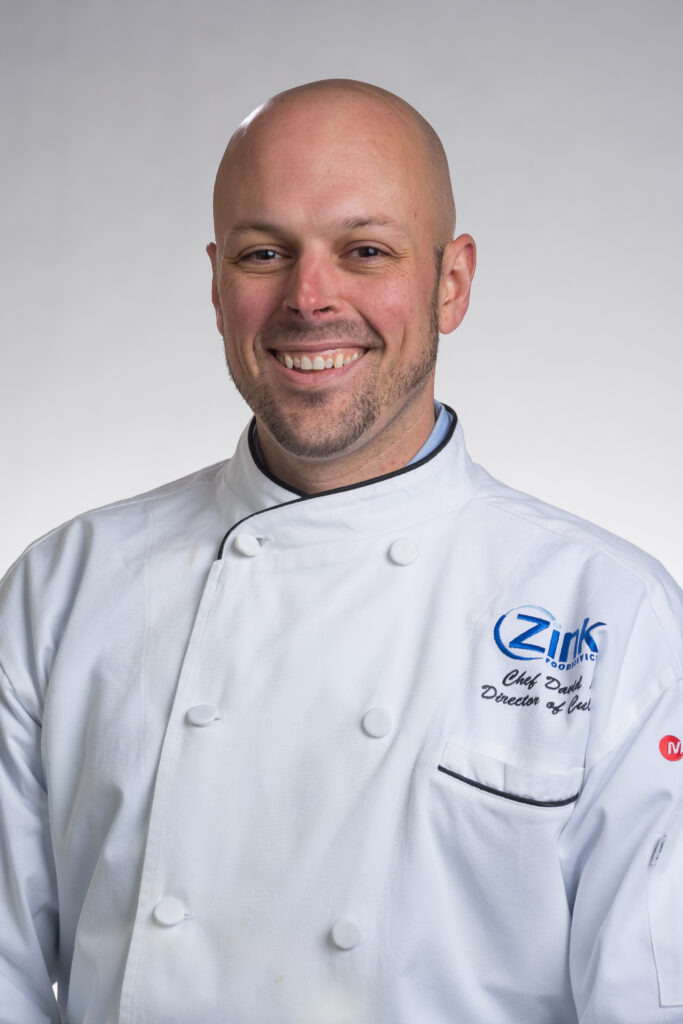 "Our culinary centers serve as a free playground for chefs, offering the opportunity to test equipment and standardize procedures, ensuring a seamless and satisfying experience for our valued customers."-Chef David Ash, Director of Culinary at Zink
Your Culinary Center Experience
Wondering what awaits you at Zink Foodservice's Test Kitchen? Here's a quick overview:
Understanding Client Needs: Listening and Optimizing
Our culinary team believes in attentive listening, gaining insights into our clients' objectives and aspirations. Whether clients want to expand their menu or improve their existing process, we work closely with them to find optimal solutions. By collaborating with culinary and sales team, clients receive expert guidance on menu creation and standardizing culinary procedures, catering to their unique requirements.
Addressing Pain Points: Equipment and Concept Expansion
Many clients face pain points with their existing equipment or are rapidly expanding their culinary concepts. For the former, we identify and address issues to ensure a smooth transition. For the latter, our culinary team provides valuable advice on standardizing procedures across multiple locations. By understanding their vision, we can recommend the right equipment for their expansion plans.
You are invited to bring ingredients for a dish that you'd like to explore or improve. Consider this a collaborative effort, where you and Chef Ash will reimagine your dish using our state-of-the-art equipment.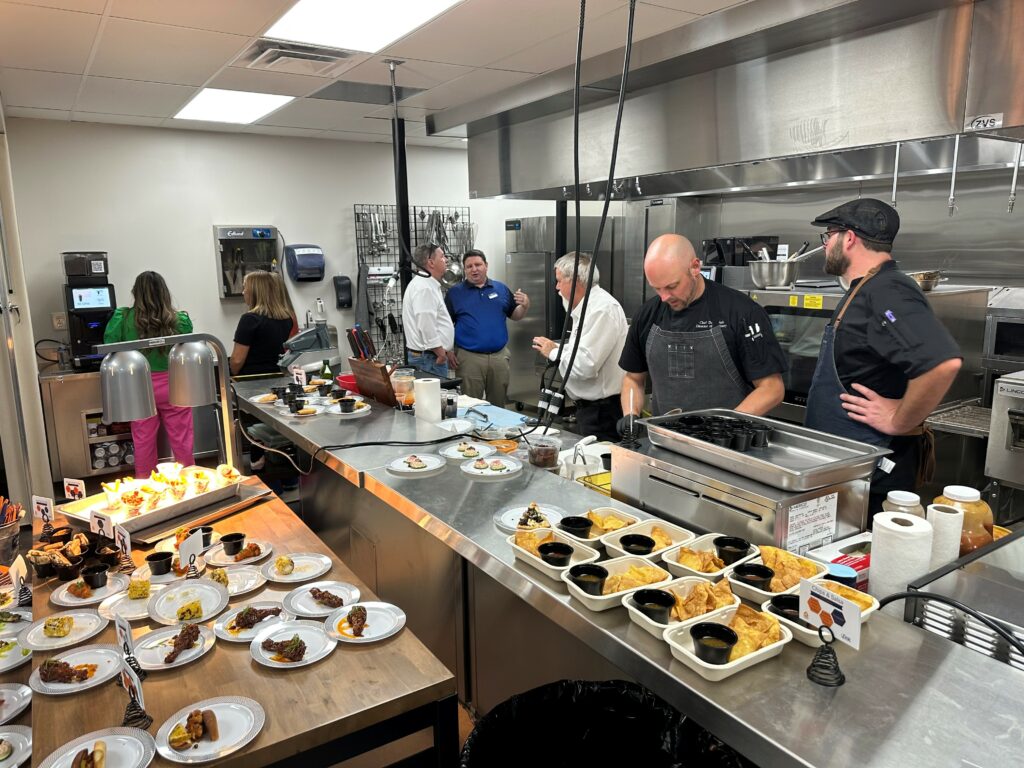 Timing and Flexibility
Expect hands-on, immersive sessions that can last between one and three hours, depending on your needs. At Zink Foodservice, we aim to make your visit as productive and enjoyable as possible.
Culinary Center Accessibility: Redefining Equipment Testing
When planning our culinary centers, we take client convenience seriously. We strategically locate our centers within a reasonable driving distance (2 hours) for all customers within the Zink territory. This ensures easy accessibility for clients who wish to visit and test equipment in person, using their own food. The culinary centers offer a flexible layout, allowing different equipment configurations to cater to specific client needs.
Factory-Level Support: Ensuring Customer Success
After the equipment purchase, our commitment to customer success doesn't end. We offer continuing education and factory support at the field level, ensuring clients are well-versed in utilizing the equipment to its full potential. Our team's expertise and guidance empower clients to overcome challenges related to kitchen flow, labor management, and effective communication.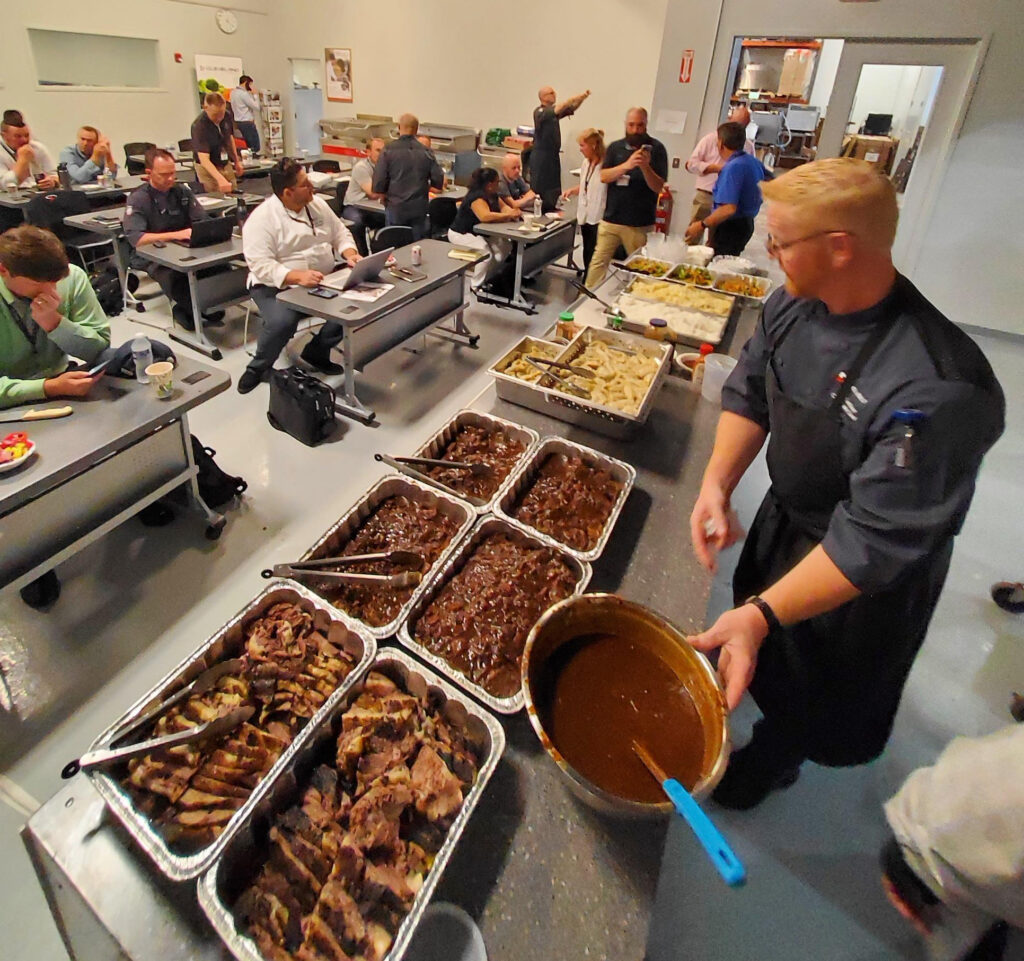 Regular Programming
Whether you are looking for innovative kitchen equipment or front-of-the-house solutions, Zink Foodservice's Culinary Centers offer a hands-on experience that is both educational and exhilarating.
At Zink, we take pride in our culinary centers, which have revolutionized the equipment purchasing experience for chefs and culinary professionals. By listening to our clients and understanding their needs, we optimize processes, expand menus, and ensure seamless concept expansion. Our commitment to customer success extends beyond the purchase, with continuing education and factory-level support. Chef Dave's passion for creating a free playground for chefs reflects our dedication to providing exceptional service. We invite chefs and culinary experts to experience the Zink culinary centers, where equipment purchases transform into enriching and fulfilling experiences.