We are excited to announce that Rian Hassen will be transitioning from her current role in the client services team at Zink Foodservice to an outside sales role on the Hospitality team, effective immediately. In her new role, Rian will be responsible for calling on foodservice dealers and the architecture and design community.
Rian has been an invaluable member of the Zink team since joining us in 2018. She has consistently demonstrated a deep commitment to delivering exceptional service to our clients and has embodied our core values of integrity, collaboration, and innovation.

We are thrilled to have Rian join the Hospitality team, and we have no doubt that she will continue to excel in her new role. As Brian Tarpy, Director of Sales for Zink Hospitality, said, "Rian's outstanding performance in her previous role and her alignment with our core values make her the perfect addition to our team. We look forward to seeing her bring her talents and expertise to her new role in outside sales.

For any requests that you would have normally sent to Rian, please send to our newest team member, Nicole Snyder. Rian and the inside sales team will of course still be available to guide Nicole on any questions!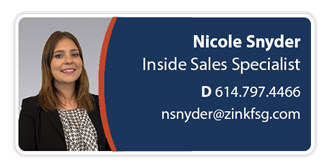 ABOUT ZINK CORPORATION
Zink Corporation is an employee-owned company headquartered in Columbus, OH with offices throughout Ohio, Illinois, Wisconsin, Indiana, Michigan, West Virginia, Kentucky and Western Pennsylvania. Zink companies include Zink Foodservice, Zink Hospitality, Z-Ventilation Solutions, AIM National, Wenger Temperature Control, and ZCS Distribution.. Zink provides comprehensive sales, marketing, distribution, ventilation, service, and installation for premier manufacturers, dealers and operators in the hospitality and foodservice industry. For additional information, visit www.zinkcorp.com